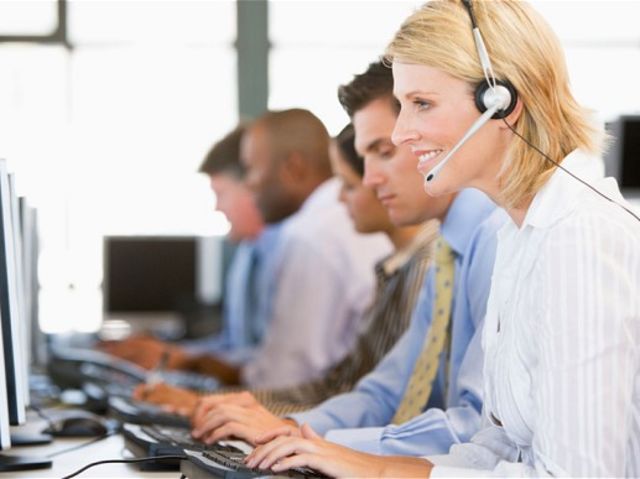 Scratching your head trying to figure out which dialer to use for your outbound prospecting? No problem! We have you covered, as we reviewed the top 12 dialers we find insurance agents recommending all over the web. Not only are we going to break down what a dialer is, but we are going to:
Explain the 4 types of dialers to clear up confusion and keep you legal
Discuss the most popular features you'll find when shopping for a dialer
Reveal who the best (and worst) options are for new insurance agents and one-man teams
While you're reviewing this article, if you find yourself experiencing déjá vu, don't worry; you're not going crazy. As we mentioned previously in our CRM review and our Quoting Tools review, the technological renaissance is consolidating the tools that insurance agents use. What we mean by this is that instead of having separate tools for quoting, dialing, and managing contacts, the lines have blurred as most tools have evolved into multi-purpose software that enables agents to maximize their time.
So not only will you see similar features in this article that you might've seen or currently have with other software tools, but in the future, we will find multiple tools consolidating into one platform as technology's prowess increases.
What is a Dialer?
Usually when you hear the word dialer, it has a prefix attached to it like "predictive" or "power" or "auto," which each behave and operate differently. To put it simply, a(ny) dialer is designed to help streamline communication between an agent (the caller) and the prospects and/or clients he's calling, by helping dial numbers in more efficiently or automatically compared to dialing by hand. We will cover how dialers specifically help agents below when we cover the different types of dialers available.
Also, as you'll see when we go over popular dialer features, dialers don't just streamline communication via phone but also via other methods like email and texting. Combine the increased efficiency of a dialer with CRM tracking capabilities, and you have a powerhouse tool that keeps you on track and keeps commissions coming in. The right dialer can maximize an agent's productivity by increasing his prospecting activity, which is the main ingredient to sales success.
Hosted or Non-Hosted?
Before we get into the 4 different types of dialers you'll come across, let's talk about the 2 main flavors dialers come in, hosted and non-hosted.
Many dialer options are hosted (like DYL), which means you simply log into a website via your web browser and make calls that way. Other dialers (like Dolphin) download to your computer and work offline.
There are advantages to having a hosted version – no programs to install or update, just log in and go, and it usually doesn't take up as much operating memory on your computer as a non-hosted version. The biggest pro of non-hosted dialers is that you always have access to reports and CRM client files, regardless of internet connection, which can be useful if you're out in the field or offline.
I think as time goes by, all dialers will be hosted. Heck, even when you buy your own dialer software like Voicent, the wisest thing to do would be to buy a VPS to host it on so it's not dragging down your computer and providing inferior voice service.
Renting vs Owning your Dialer
Speaking of Voicent, the leading out-of-the-box dialing software, you'll also likely wonder if you should keep throwing money at a dialer provider month after month instead of just buying your own dialer.
Aside from the freedom in owning your own dialer, here are some of the complexities and obstacles you'll have to deal with if you buy your own dialer instead of subscribing to a service:
Setting up a SIP trunk (sounds easy, right?)
Buying VOIP service
Configuring settings (and believe me, there are a ton)
Purchasing updates
Spending time troubleshooting issues
Especially for new agents, the learning curve involved in owning your own dialer is very steep – which is why we recommend most agents just rent dialers and let the software companies deal with the tech hassles and headaches.
4 Types of Dialers: Which One to Get?
Here's where it gets kind of confusing – which type of dialer should you get? Let's go over the differences between the main 4 types, and you'll be better equipped to answer that question yourself and decide between an:
Autodialer
Predictive Dialer
Power Dialer
Preview Dialer
A word of warning before we dive into these 4 types of dialers: Semantics is usually an issue when it comes to dialers. There's not a consensus between the definitions of these 4 types, so be ready to encounter different descriptions for each of these types of dialers as you peruse the vendors' websites.
1. Autodialer
An autodialer is commonly known as Voice Broadcasting. It automatically pushes out a prerecorded message to a data list. This seldom yields any leads of decent quality, also known as "press1" leads. On top of that, these leads are illegal to develop when it comes to consumer prospecting (as are avatar leads, a cousin of press-1 leads).
However, autodialers are still legal for B2B prospecting, but looking at your own experience, let me ask you: How many times have you been thrilled to get an automated telemarketing phone call? Did you even listen to the whole recording before hanging up? Probably not.
The only way an autodialer can be useful for agents dealing with consumers is if the agent uses it to call clients (or prospects who have opted in) to remind them of important events like policy renewals, upcoming meetings, etc.
2. Predictive
Predictive dialers help agents dial even more numbers than a power or preview dialer by using more than one telephone line to dial multiple numbers simultaneously. Dialing with multiple lines can increase the chances that an agent will talk to a live person, as opposed to wading through answering machine messages, dial and ring tones, etc.
Technically, not all multiline dialers are predictive in nature, but most people refer to them as such. A true predictive dialer considers not only how many agents are calling, but the size of the list, the average call time, etc. Predictive dialers use that data to effectively "predict" when it should start calling numbers again so that agents experience as little downtime as possible before connecting with another prospect.
Does it matter if your multiline dialer has predictive algorithms or not? The effects can be negligible – at least until you start scaling your operations with more callers, at which point, shaving seconds off collective agent downtime results in considerably higher contact ratios and more leads.
3. Power
A power dialer is perhaps one of the more popular dialer types out there. It's usually a single-line dialer that will automatically (see how it can be confusing) connect the agent or caller with the next number after he hits a disposition button to track details about the prior call – which we'll talk more about later.
This can greatly increase productivity over hand-dialing, keeping the agent on track by making sure he's always dialing or talking.
4. Preview
A preview dialer is similar to a power dialer except that it allows the agent or caller to preview the next number before it's called. This feature can help agents acclimate to the person's name and any pertinent case or file details that might aid in the conversation. This dialer is also simply known as a power dialer (with preview capabilities), but recently there's been a renewed effort to differentiate between the two – especially since most power dialers have this feature if you want it.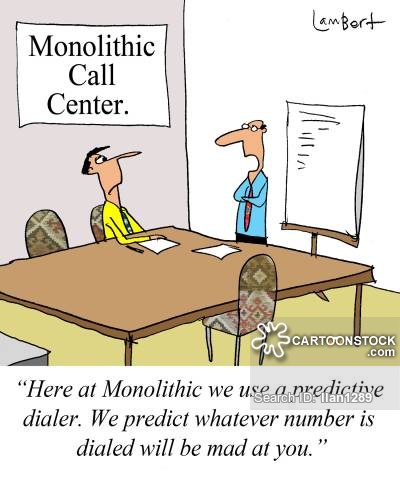 So, which dialer is the best for you? That depends on:
Who's calling for you
How often they're calling
How many leads you need
If your business is entirely reliant on connecting with as many prospects as possible, you might want to go with a predictive or multiline dialer. If you're finding yourself only having to call occasionally, you might be better off using a preview or power dialer.
Just remember if you go with a multiline dialer, you have to stay within a 3% drop rate. This is the number of people who the multiline dialing software hangs up on when it connects you with someone on one of the other lines. If your drop percentage is higher than 3% – meaning out of 100 calls, more than three are hung up on because you connected to someone else – you're breaking the law.
Exceeding a 3% drop rate can expose your business to fines and penalties by the FTC. Many agents sidestep this potential pitfall by either using a single-line dialer or increasing the number of callers they have so someone's always available to answer the phone if a prospect answers.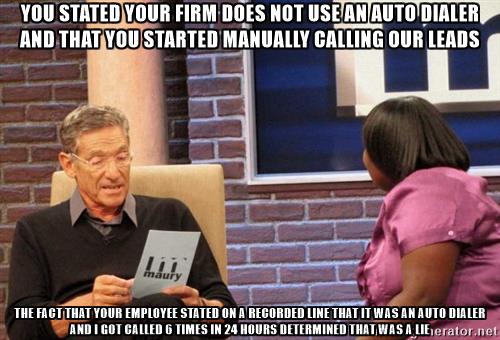 Another item to note before getting into the popular features: Please be aware that there are two federal laws when it comes to calling consumers –the Do Not Call list (DNC) and the Telephone Consumer Protection Act (TCPA). The two laws forbid calling consumers' cell phones and/or anyone that has signed up for the DNC list.
Just like the 3% drop rate, failure to comply with these laws can lead to 5-6 figure fines and penalties. A great website for free software to filter out DNC numbers is Make My Calls, which is operated by the makers of the Mojo dialer we will be reviewing below. To get a copy of the DNC to use with this software, all telemarketers should register for a Subscription Account Number (SAN) to access the DNC list so they can scrub their data lists against it.
Now that those warnings are out of the way, let's proceed to dialer features.
12 Popular Dialer Features
Before we get to the 12 most popular features you'll encounter when shopping for a dialer, we'd like to preface this section by saying these features aren't inclusive. You will find many more advanced features and capabilities when shopping around, such as quoting, workflows, inbound enhancements, etc. Generally, these more advanced features are reserved for more expensive packages and usually for larger agencies that operate call centers.
The 12 features we'll cover below are the most popular capabilities you'll commonly come across when comparing dialers:
1. Number of Lines
First and foremost, the most important feature is the number of lines dialing out. Some agents prefer to use a single-line dialer (power dialer) so there's no gap or "dead air" between the caller hearing the prospect pick up the line and answering hello – which is usually a dead giveaway to the prospect that they're on a sales call.
Some agents prefer a multiline dialer (predictive dialer) because some have progressed to the point of lessening the sound gap mentioned above, in addition to the increased chances of talking to a live person while minimizing down time.
2. CRM
Almost every dialer has some sort of Customer Relationship Management tool; the difference between them is how customizable is it, and how advanced the tracking and reporting capabilities are. Does it have advanced sales workflows that track the prospect throughout the entire sales cycle, giving the agent updates on where the prospect is in the sales funnel, or does it have basic info that you can see while dialing out, with minimal search functions?
In reality, the best dialer is the one that's not only intuitive to use, but also provides reports that are easy to read, capturing vital information to monitor efficiency and ROI.
3. Tasks & Calendar
The next most important item on the list of dialer features agents want is the ability to add reminders and tasks to an internal calendar (or sync with your favorite calendar provider like Google) to keep you on track. Some dialers are even equipped with the ability to funnel contact details into your calendar or make calls automatically if the agent is available – and some hosted dialers have this ability, whether or not you're actually logged into the dialer!
4. Custom Dispositions
Agents classify prospects based on how they qualify leads, what type of insurance they sell, and other preferences. It's only logical that you'd want to be able to classify phone calls the same way you design your sales funnel. Some agents may want to classify their leads after a phone call according to a cold-vs-warm prospecting continuum, while other agents may be more specific – opting for dispositions like 'callback', 'not interested', or 'set appointment' as examples. The best dialers allow you to customize these dispositions to organize your leads more effectively.
5. DNC Scrub
Not all dialers are equipped to scrub for the DNC list like we talked about earlier – and you can't just rely on your data vendor to scrub it for you. Since that responsibility rests squarely on the agent's shoulder (in the eyes of the law), it helps when a dialer takes care of that for the agent.
Some dialers may scrub against an updated DNC list the vendor provides, while some vendors may scrub it if you have a SAN subscription to give them, in which case the agent has to pay for whichever area codes he wants. Make sure to ask your dialer how they can help you comply with the DNC; if it shortens the amount of work required to comply, why not?
6. Answering Machine Message
The ability to trim the amount of time you spend calling – by either avoiding answering machines altogether, called answering machine detection or AMD, or being able to drop a pre-recorded message on an answering machine while the dialer starts contacting the next person on the list – can be very efficient. Not all dialers offer AMD, but most offer the ability to drop pre-recorded messages, which our chart below illustrates.
7. Conferencing (3-way transfer)
This feature is more useful for agents who have personal telemarketers, assistants or agents 'bird-dogging' or drumming up interested (or hot) leads that are then transferred like a 3-way call to the closer or senior agent.
8. Recording
This feature is vital for agents who want to keep records of what was and wasn't said, not only to minimize E&O claims, but also to listen for constructive criticism. Whether it's you listening to yourself, or you listening to your agent/telemarketer/appointment-setter, this feature will help with your administrative and executive oversight – not to mention continuous improvement.
9. Email
As we mentioned in the beginning of this post, today's dialers aren't just utilizing phone calls to connect you with prospects; some are using a combination of calls, texting, and email. This can also be another useful feature for agents who do phone sales and also email quotes to prospects during or after talking with them.
10. Script Pop-Up
I'm not sure why it's not standard for all dialers to display a pop-up of your sales scripts when dialing, but for some reason it isn't. I find it especially important if you have other callers or agents that are learning the ropes, and need access to a script to keep them on track.
11. Dynamic Caller ID
It's no secret that prospects are 400% more likely to pick up the phone if it's a local number calling them. Using this statistic to your advantage may mean the difference between profit and loss – so the this feature is very important in a dialer. Standard caller ID capabilities allow you to select a certain phone number to show on the prospect's caller ID for each campaign; more advanced dynamic caller ID capabilities will even predict which number to display based on the area codes it's dialing.
12. Call Monitoring
The ability to monitor calls in real-time is another feature best suited for agencies that have multiple callers and/or agents on the phone. Some dialers even allow the manager overseeing callers to "whisper" into the call so only the caller/agent can hear it and not the prospect.
This can be a superior phone training aid if a pro is listening nearby and can interject what to say to close the sale.
Feature Four Winners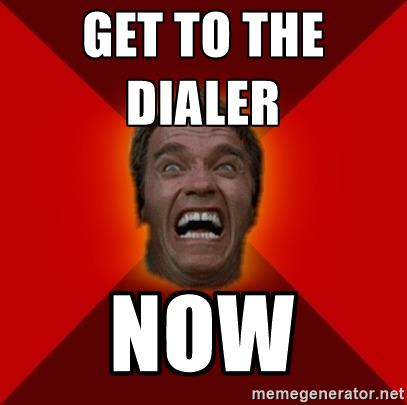 As tradition holds, we must declare the winners and losers of this review article. After perusing the data, we've decided to present 4 of the best and worst options for agents. The top spot in our winner's section is Sales Dialers PowerDialer CRM.
Sales Dialers simply has it all for a very an affordable monthly price. Whether the agent wants to use one line or up to 4, there are options available. What makes this dialer number one is if you happen to belong to some agent associations (like ILIAA) that offer price discounts, it can really make it easier for new agents to start generating leads without a big budget. This dialer really works great, especially if you've got a caller calling for you, who can simply transfer or email hot leads for you to follow up with.
The runners-up include: Mojo, EVS7, and DYL. All three of these dialers are either priced nearly the same if not slightly higher than Sales Dialers. DYL didn't have predictive capabilities, although its system is intuitively designed. Mojo is a great option, but when you start tacking on extras like call recording, it can get a little pricey. EVS7 is another great option for agents, offering two dialers: the single-line dialer called The Dolphin and the multiline dialer, The Parrot. While The Parrot is hosted, The Dolphin is non-hosted and lacks the more advanced capabilities that The Parrot has.
DIALER
POWER/PREVIEW

PREDICTIVE

CRM

TASKS/CALENDAR

CUSTOM DISPOSITIONS

DNC SCRUB

PRERECORDED MESSAGE

CONFERENCING

RECORDING

EMAIL

SCRIPT POP UP

DYNAMIC CALLER ID

CALL MONITORING

PHONE

WEBSITE
VELOCIFY
Y

integration Five9

Y

Y

Y

N/A

Y

Y

Y

Y

Y

Y

Y

1-888-843-1777
CALLTOOLS
Y

Y

Y

Y

Y

Y

Y

Y

Y

Y

Y

Y

Y

1-800-679-1637
DYL
Y

coming soon

Y

Y

Y

Y

Y

Y

Y

Y

Y

Y

Y

1-855‐357‐9249
INSIDE SALES
Y

N/A

Y

Y

Y

Y

Y

Y

Y

Y

Y

Y

Y

1-888-297-3009
DIALER
POWER/PREVIEW

PREDICTIVE

CRM

TASKS/CALENDAR

CUSTOM DISPOSITIONS

DNC SCRUB

PRERECORDED MESSAGE

CONFERENCING

RECORDING

EMAIL

SCRIPT POP UP

DYNAMIC CALLER ID

CALL MONITORING

PHONE

WEBSITE
MOJO
Y

Y

Y

Y

Y

buy their data

Y

Y

Y

Y

Y

Y

Y

1-877-859-6656
AGENTS DIALER
Y

Y

Y

Y

Y

N/A

Y

Y

Y

Y

N/A

Y

Y

1-888-505-0631
SALESDIALERS
Y

Y

Y

Y

Y

N/A

Y

Y

Y

Y

Y

Y

Y

1-800-662-4009
VANILLASOFT
Y

N/A

Y

Y

Y

N/A

Y

Y

Y

Y

Y

Y

Y

1-866-763-8826
DIALER
POWER/PREVIEW

PREDICTIVE

CRM

TASKS/CALENDAR

CUSTOM DISPOSITIONS

DNC SCRUB

PRERECORDED MESSAGE

CONFERENCING

RECORDING

EMAIL

SCRIPT POP UP

DYNAMIC CALLER ID

CALL MONITORING

PHONE

WEBSITE
EVS7 DOLPHIN
Y

Y – Parrot

Y

Y – Parrot

Y

Y

Y

Y

Y

Y

Y

Y

Y

1-800-713-8353
INTERCLOUD9
Y

Y

Y

Y

Y

Y

Y

Y

Y

Y

Y

Y

Y

1-877-256-2100
FIVE9
Y

Y

Y

Y

Y

N/A

Y

Y

Y

Y

Y

Y

Y

1-800-553-8159
GOAUTODIAL
Y

Y

Y

Y

Y

N/A

Y

Y

Y

N/A

Y

Y

Y

1-877-350-5288
Feature Four Losers
Let's take our attention to the four losers we reviewed for this article. Keep in mind, though, that our focus for this article was helping new insurance agents and small teams, so we don't mean "losers" in the traditional sense of offering faulty products or bad customer service; we just mean that these tools are not priced appropriately for new agents or one-man teams. If instead we were reviewing the best dialers for larger insurance agencies, these four losers might even be top four winners instead.
With that said, taking the bottom spot in our losers' circle is Velocify. How can you justify charging $1,500 per month? That's an annual cost of $18,000! In fact, check out these 15 U.S. cities that have mortgage payments lower than Velocify's monthly cost.
The same goes with Inside Sales ($15,000 per year), Five9 ($8,400 per year), and CallTools ($3,600 per year), which also have outrageously large monthly payments – and we don't even account for the set-up fees that some of these vendors charge, which range from hundreds to over a thousand dollars. But I guess if you have either money to burn, or a bourgeoning underline of agents and a call center to maintain, these are the three vendors you might be considering.
Conclusion
I hope this article cleared up some confusion around dialers to help agents maximize their lead-calling efficiency. We know, with the semantic and technical features, it's easy to get lost in the details, but it all comes down to finding a dialer that makes you more productive.
Which one of these dialers have you had success with? Or, are you using another dialer that we didn't mention? Drop us a line below in the comments section and let us know.